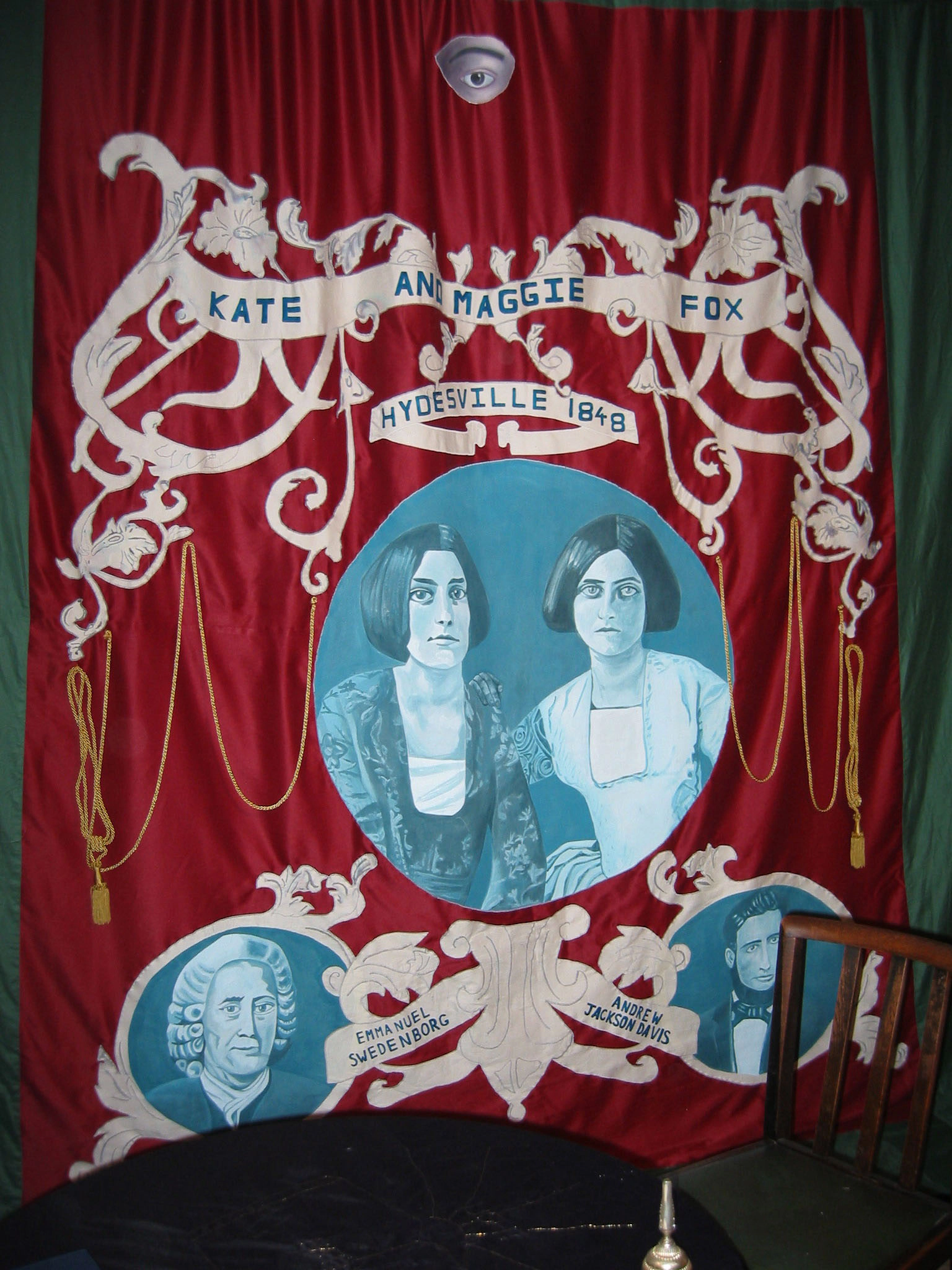 The Medium and Daybreak, 2007
mixed-media installation, 'Mystic Truths', Auckland Art Gallery
The Medium and Daybreak is a full-size diorama reconstructing a contemporary Spiritualist chapel from the north of England. Peering through the windows, the viewer sees a darkened room. It has been prepared for a 'demonstration' of mediumship, of the kind still taking place regularly around Britain today, particularly in former industrial towns and cities. At these events, the public are treated to conversations with beloved spirits – departed relatives, friends and pets – channelled from a raised platform by a medium.
The Modern Spiritualist Movement originated in 1848 with the so-called Hydesville Rappings in New York State. Two sisters, Kate and Maggie Fox, claimed to have established intelligent communication with a ghost – an incident that quickly attracted enough press attention for them to set themselves up in the nearest big city as professional seers. From the very beginning, Modern Spiritualism, as the movement became known, was intertwined with radical causes, from Utopian Socialism to feminism and the abolition of slavery.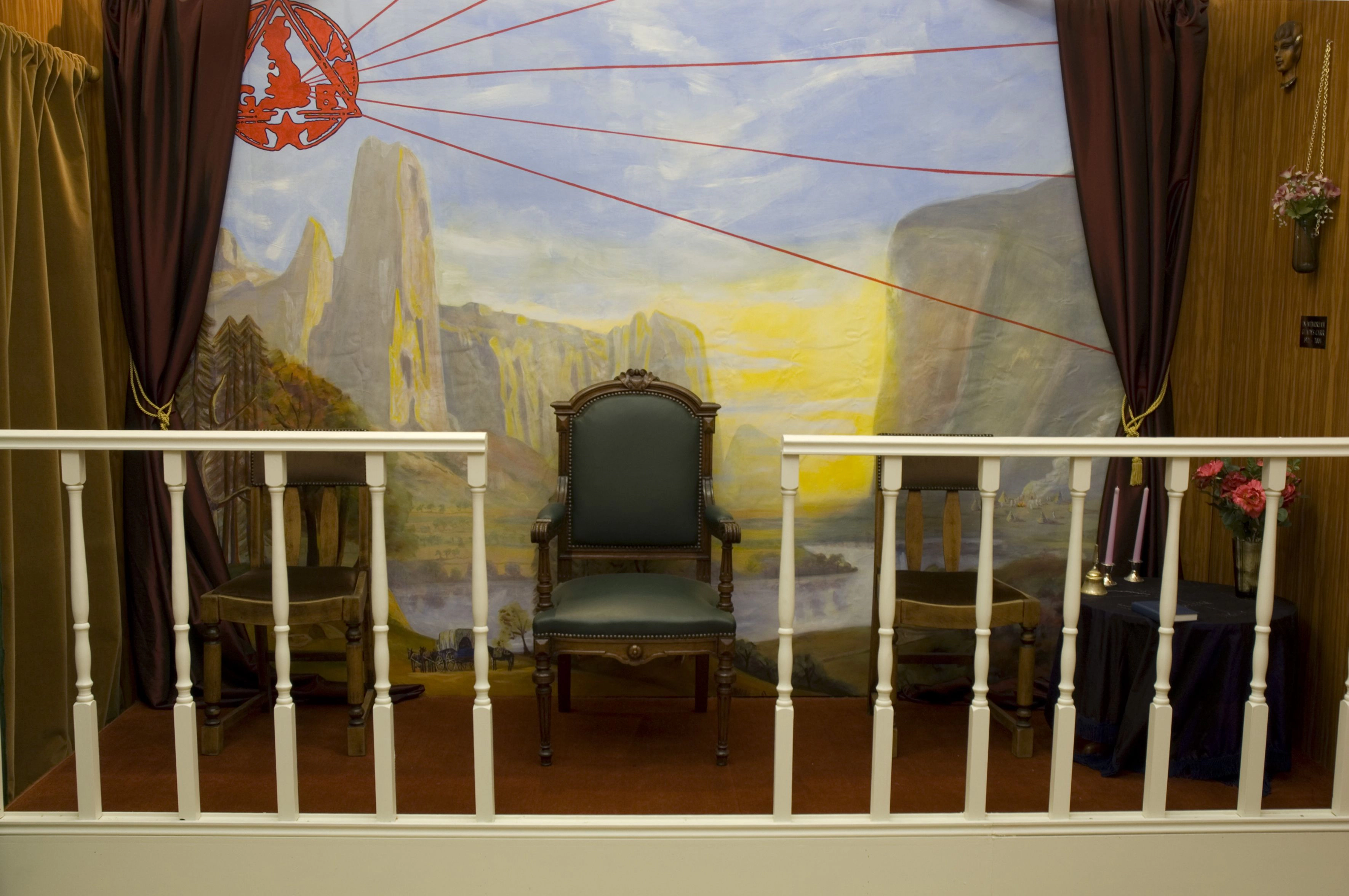 The Medium and Daybreak, 2007
detail of mixed-media installation, with platform, furniture, curtains and painted backdrop
Spiritualist churches, referred to as Lyceums, saw themselves as places of learning. Unlike traditional religion, the congregation was encouraged to step out from under the yolk of priests and learn how to commune directly with mystical forces. Those who had little or no access to universities – such as working-class people and women – could bypass the institutions that excluded them by directly conversing with canonical thinkers. Popular among the illustrious dead willing to lend a hand with teaching were the political radical Thomas Paine and the Swedish philosopher Emanuel Swedenborg. The Modern Spiritualist Movement became an alternative educational institution, created by and for marginalised people.
Behind the platform is a backdrop based on nineteenth-century paintings by Thomas Bierstadt, representing the journey to the American West, which bears a striking resemblance to the Spiritualist afterlife known as The Summerland. In the guilty settler colonial imaginations of early mediums this was a place filled with benevolent Native Americans, willing to help an individual through the seven spheres to a more comfortable material and social position.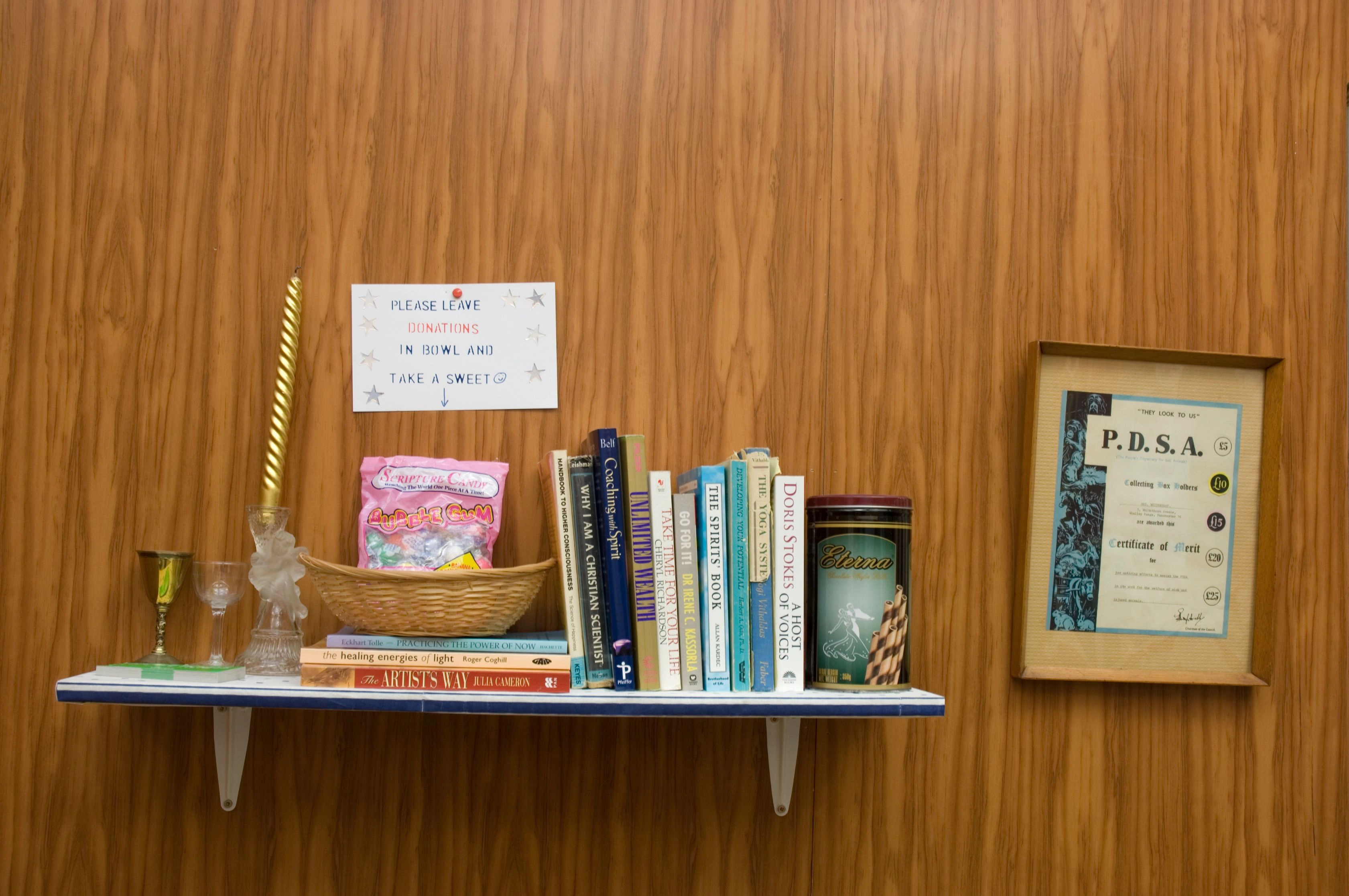 The Medium and Daybreak, 2007
detail of mixed-media installation, with shelf, books, knick-knacks
The installation faithfully reconstructs the ad hoc combination of 1970s kitsch interiors and grand Victoriana that can be found in Spiritualist Lyceums. By playing with different tones of voice in the information panels, I trouble the authority of the museum display format, provoking the viewer to question the story that is being told.
The Medium and Daybreak was originally exhibited in the solo exhibition of the same name at Castlefield Gallery, Manchester (2005), and again in the group exhibition 'Mystic Truths' at Auckland Art Gallery (2007).
Interview
Olivia Plender in conversation with sociologist John Walliss on his research into the Modern Spiritualist Movement, 2004
(download)