Kom Te Måtta, 2019
pencil on paper, 49 × 21 cm
'Practising Politics: The Fogelstad Women's Citizenship School 1925–1954', 2019
solo show, Tensta Konsthall, Stockholm
'Practising Politics: The Fogelstad Women's Citizenship School' is an installation for the Classroom at Tensta Konsthall, Stockholm. During the year that it was in place, community groups from the neighbourhood used it on a daily basis. The space was also designed to host public seminars, screenings and workshops looking into the history and methods of the Fogelstad Women's Citizenship School, a radical educational experiment established in Sweden after women gained the right to vote in 1921. The school was self-organised by a group of women, many of whom had fought for female suffrage, and was active from 1925 until 1954. The courses offered aimed to educate women to participate in politics and inhabit their new roles as voting citizens. Alongside lectures by invited speakers on history, democracy and sexual health, the school's pedagogical methods foregrounded embodied knowledge and collective experience through role play, singing and eurythmics.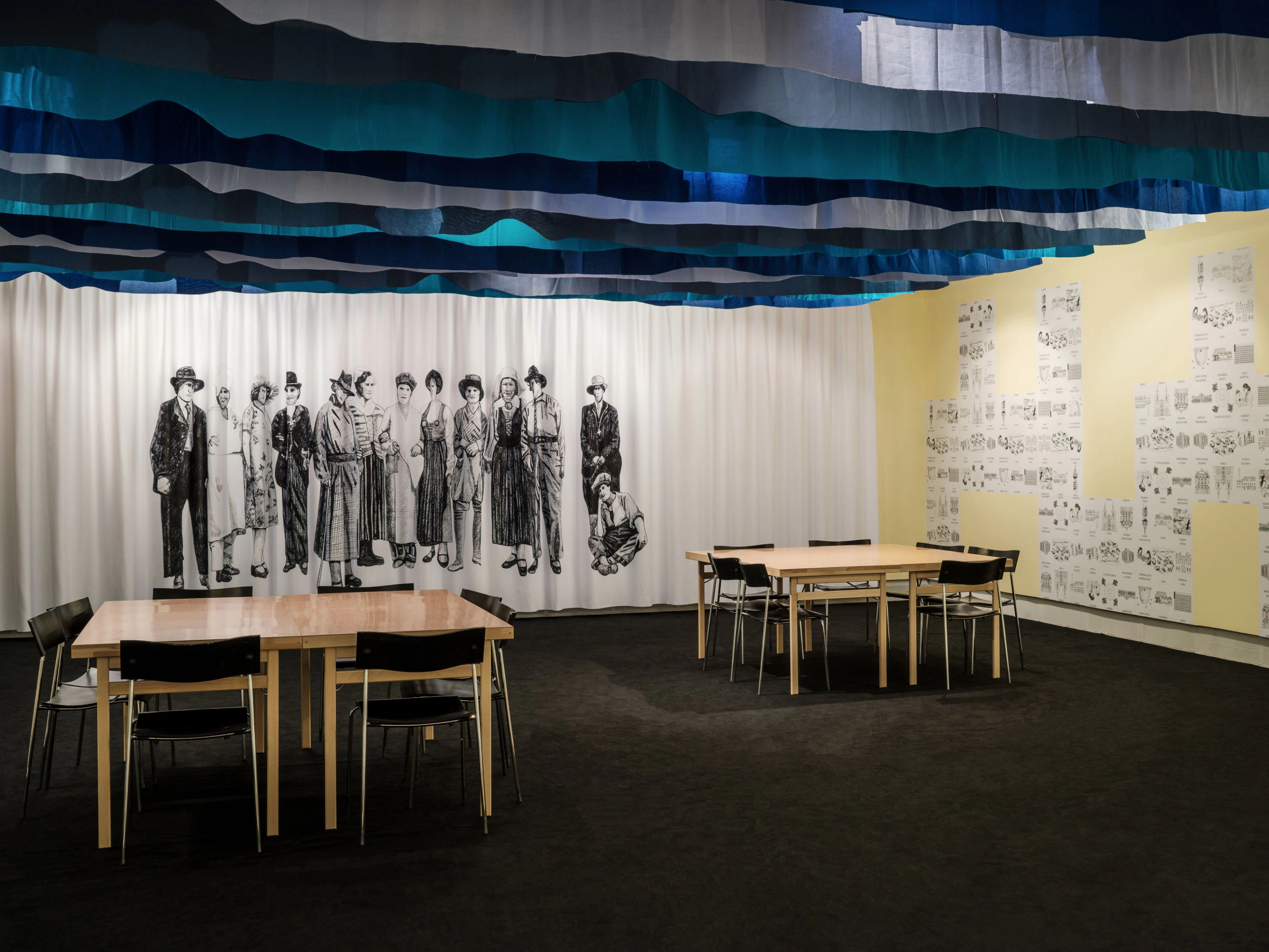 'Practising Politics: The Fogelstad Women's Citizenship School 1925–1954', 2019
installation view Tensta Konsthall, Stockholm
In the Classroom at Tensta Konsthall viewers entered an environment based on a role-playing game developed at the Fogelstad school, to enable the women to practise political problem-solving within a fictional municipality called Kom Te Måtta. Central to the room was a curtain printed with a life-sized depiction of the students, cross-dressing as the imaginary town's male power brokers. Many of the founders of the school were what we might now refer to as queer, and therefore it was also a space where women experimented with gender identity and sexuality. Walls covered with posters detailed the various institutions of the society that they were learning to negotiate, while a shadow play, with the outlines of these same buildings, was created by fabric hanging from the ceiling. Wooden hand-painted figurines of the students, like counters on a board, sat in a cabinet of archival material, alongside photos and board games developed by both the Swedish and British women's suffrage movements. Artworks by Siri Derkert (1888–1973), who attended the Fogelstad School, were also included in the installation, along with an upside-down map of the world drawn in chalk onto a blackboard, seating and other elements.
This piece is part of a research project initiated by curator Hannah Zafiropoulos.
Kom Te Måtta, 2019
printed poster (installation detail), 59.4 × 84.1 cm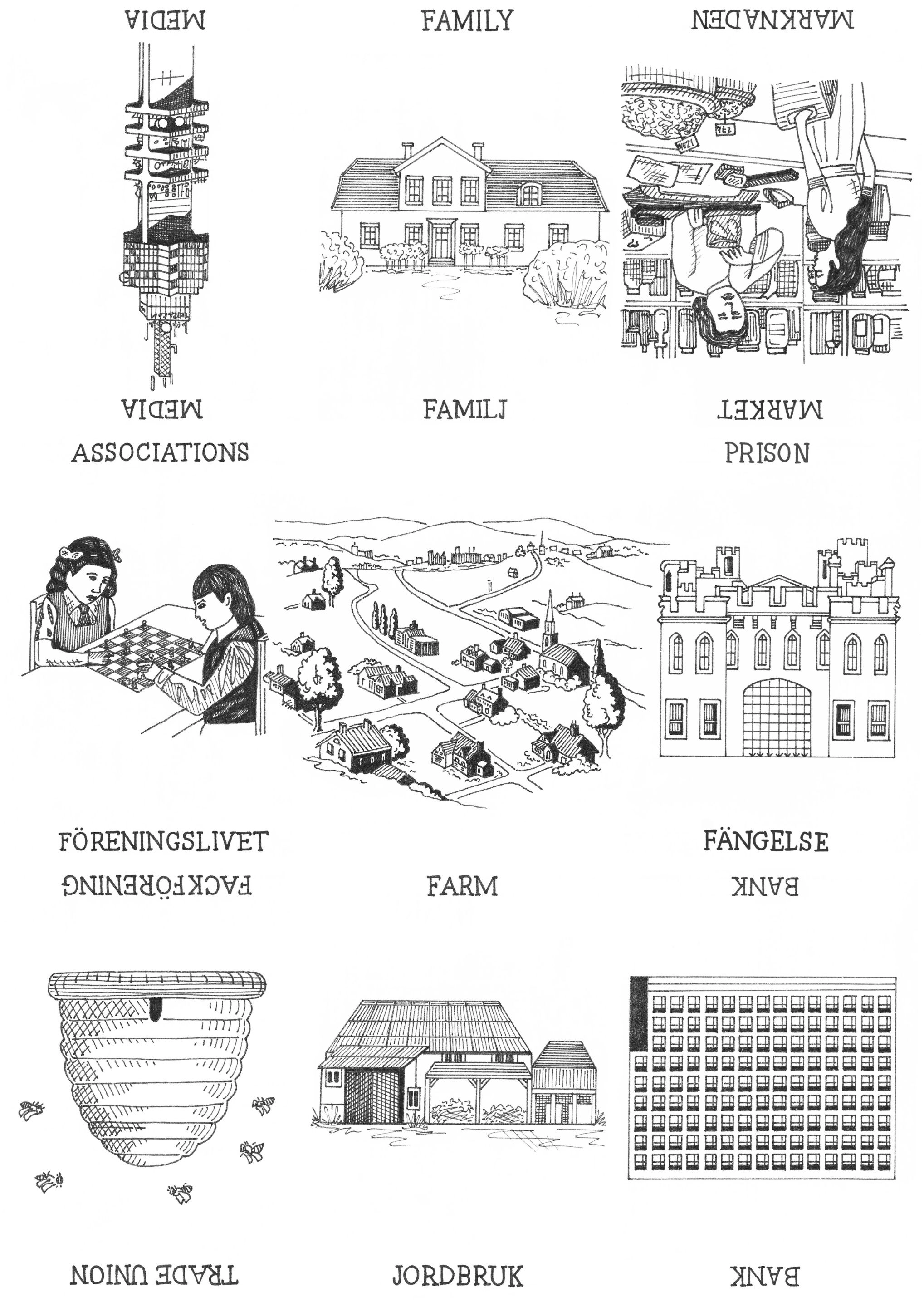 Kom Te Måtta, 2019
printed poster (installation detail), 59.4 × 84.1 cm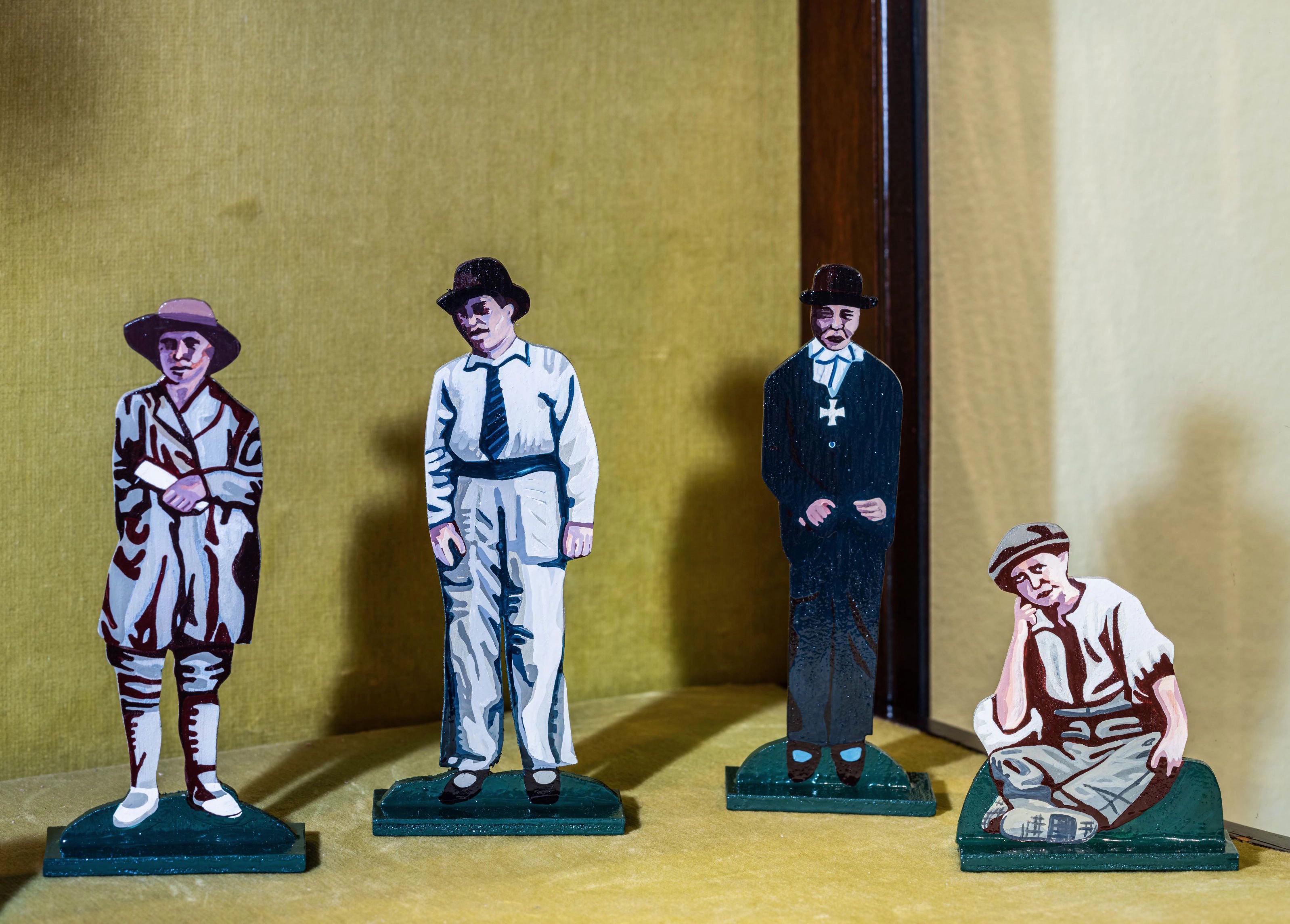 Kom Te Måtta, 2019
enamel paint on wood, 6 × 12 × 0.4cm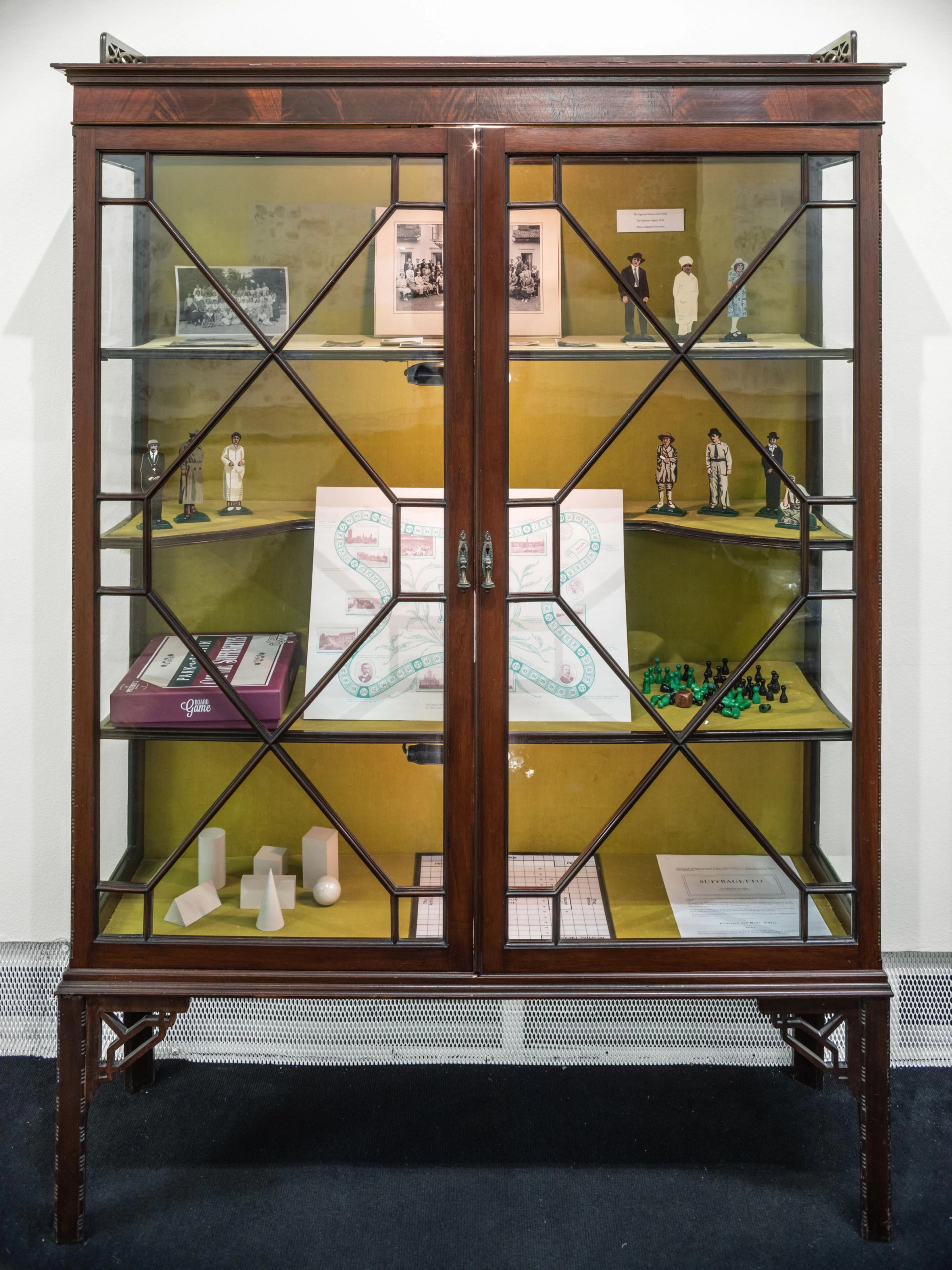 'Practising Politics: The Fogelstad Women's Citizenship School 1925–1954', 2019
cabinet of archival material (installation detail)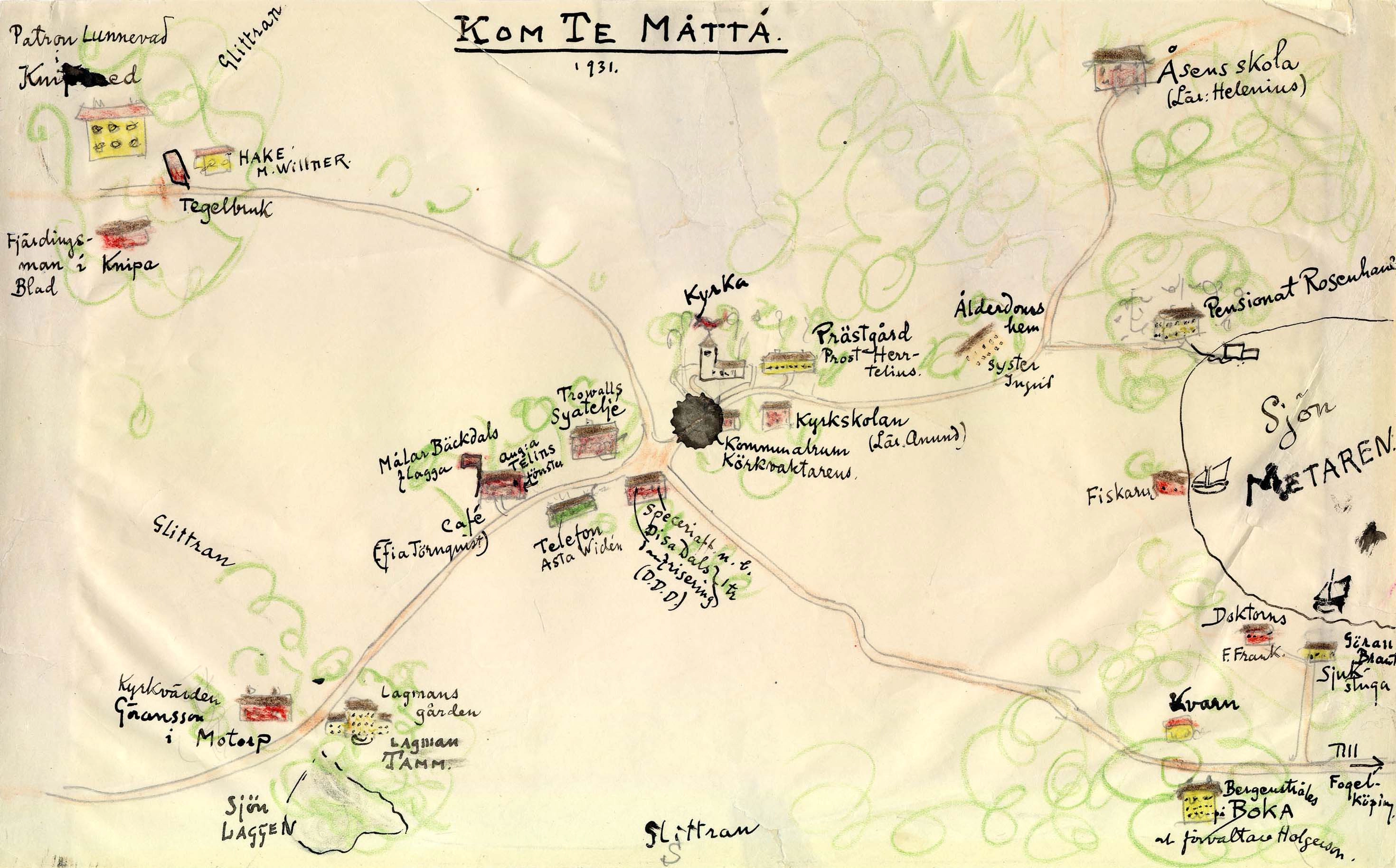 Kom Te Måtta, 1931
ink and pencil on paper, artist unknown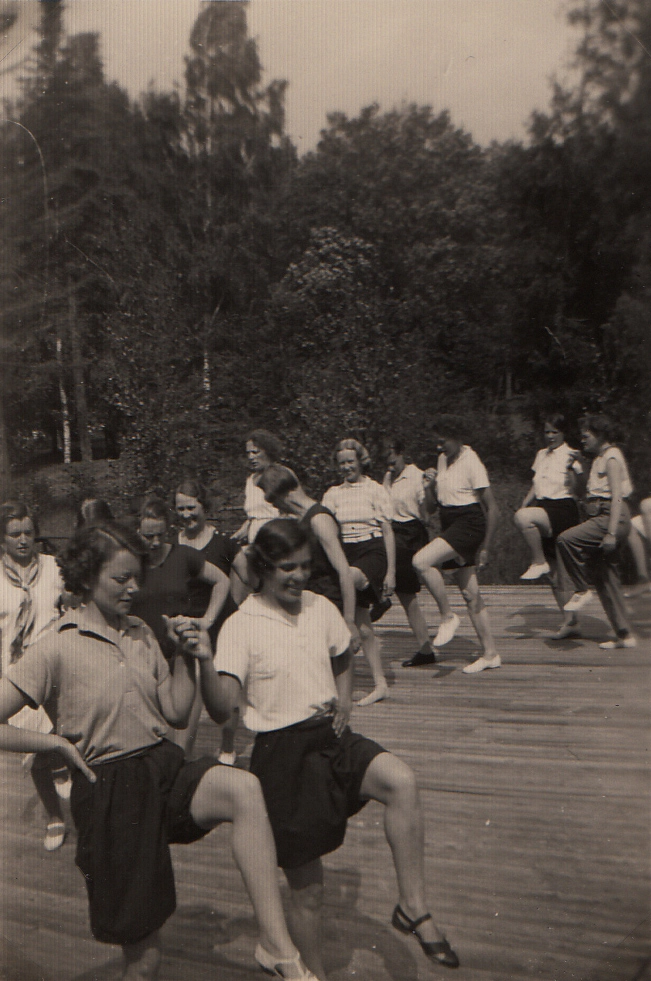 Students taking part in gymnastics at the Fogelstad School
photographer unknown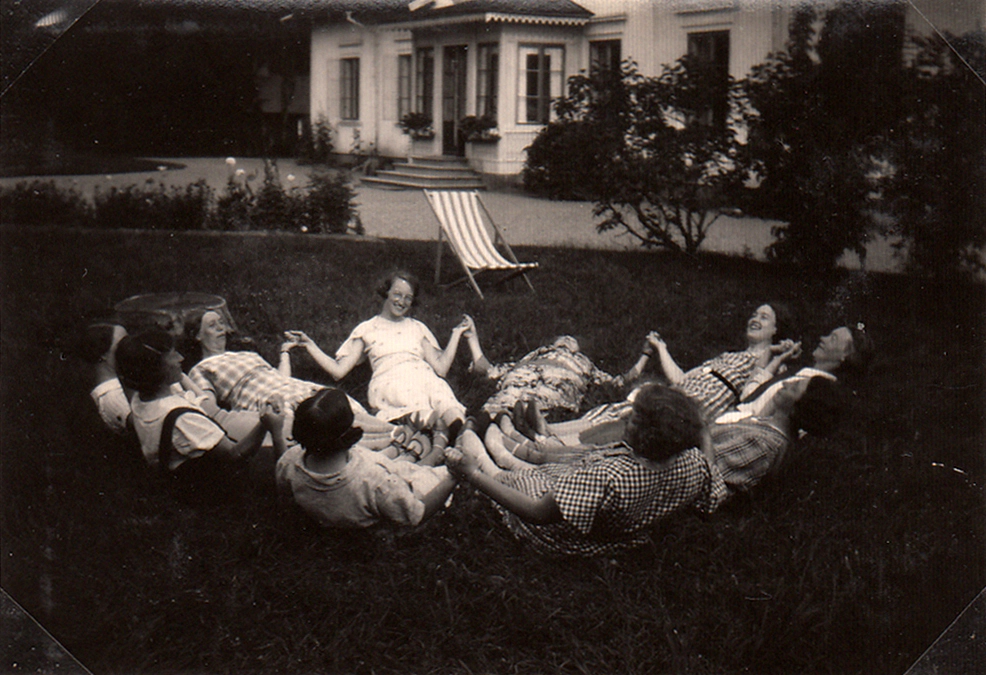 Students playing outside the Fogelstad manor house, home of Elisabeth Tamm
photographer unknown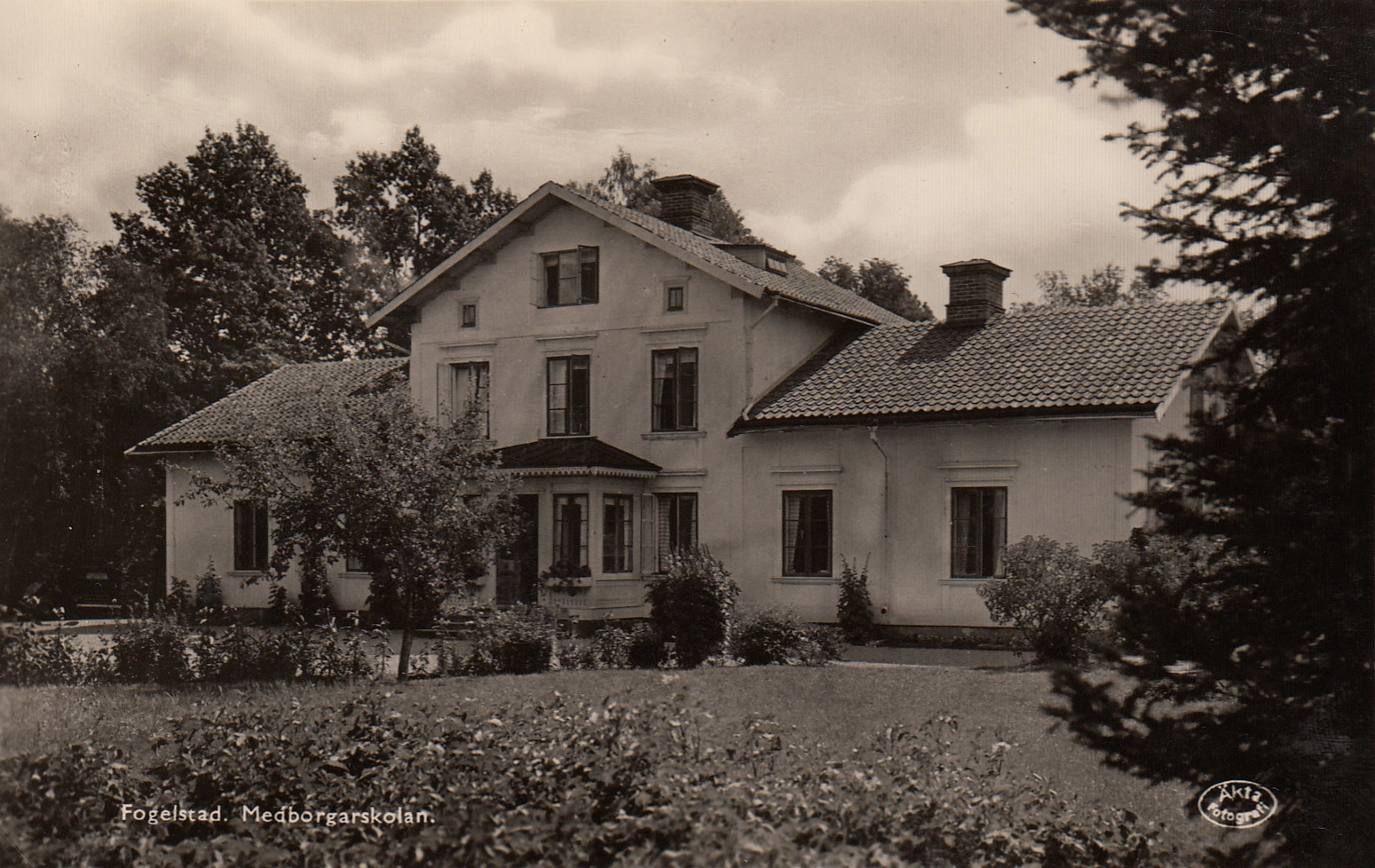 Lilla Ulfåsa, Fogelstad school building and home of Rector Honorine Hermelin
photographer unknown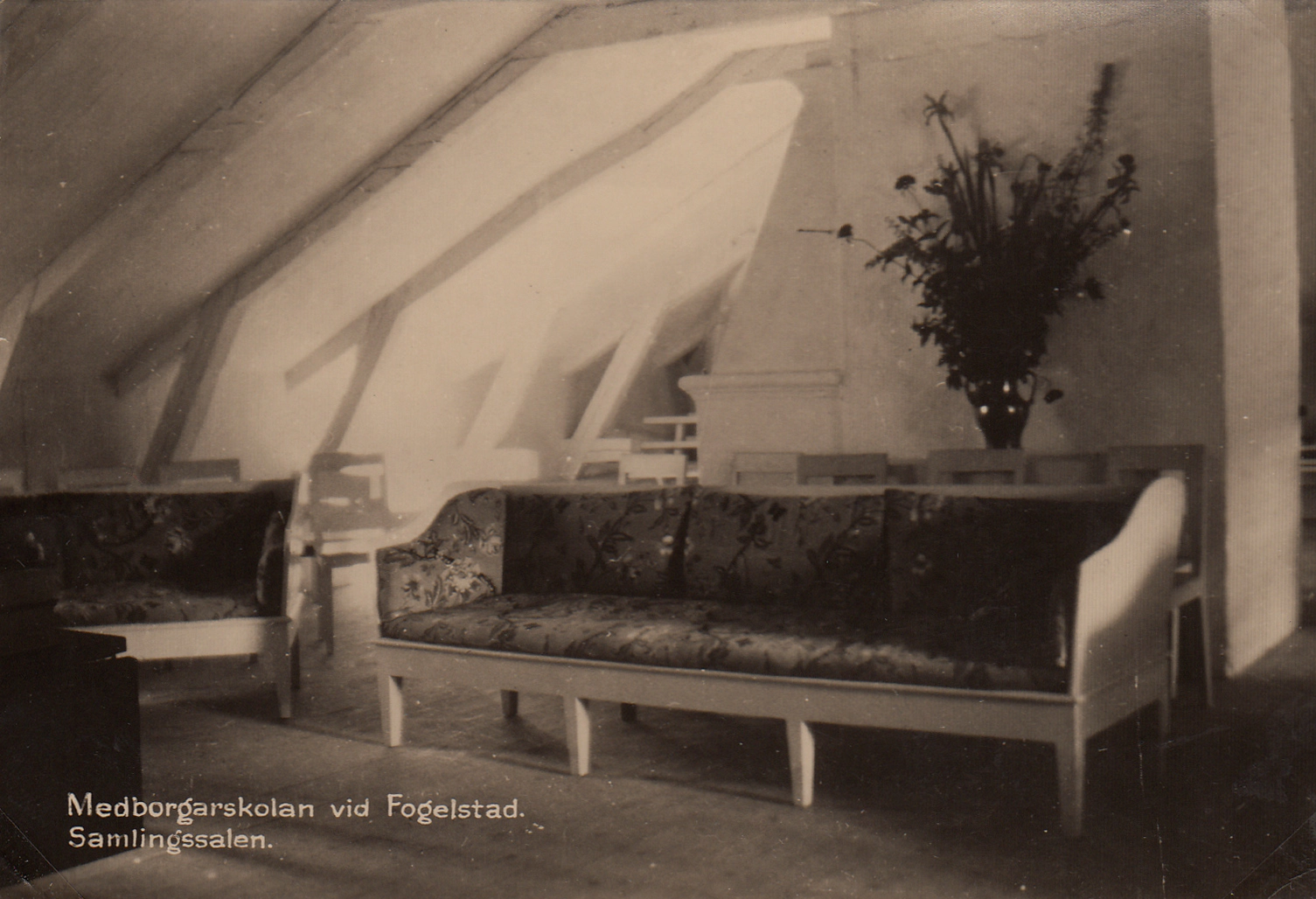 Rosenhane attic room, where the school's participants met for evening discussions and singing
photographer unknown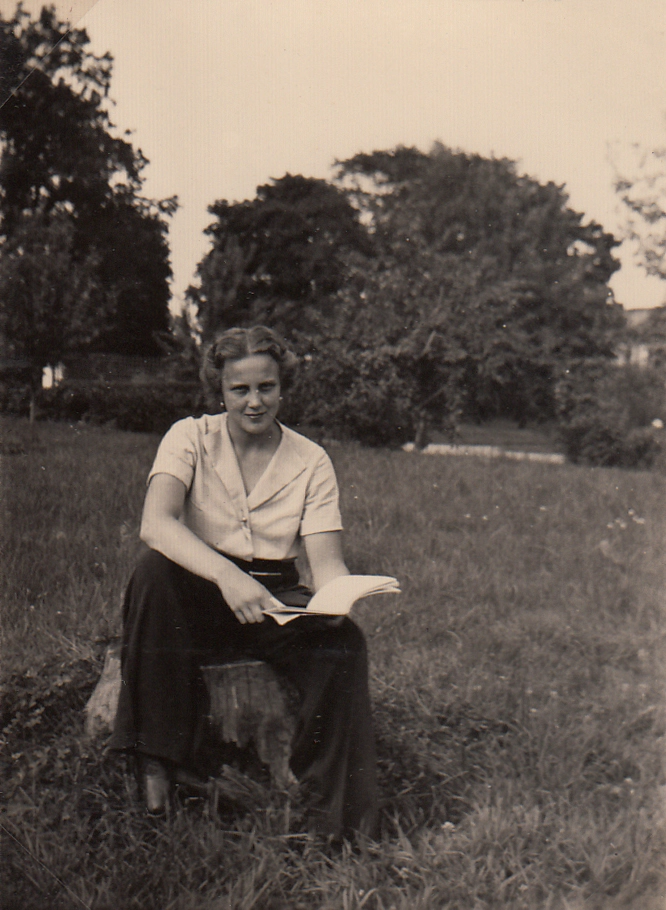 A young woman reading outside on the Fogelstad Estate
photographer unknown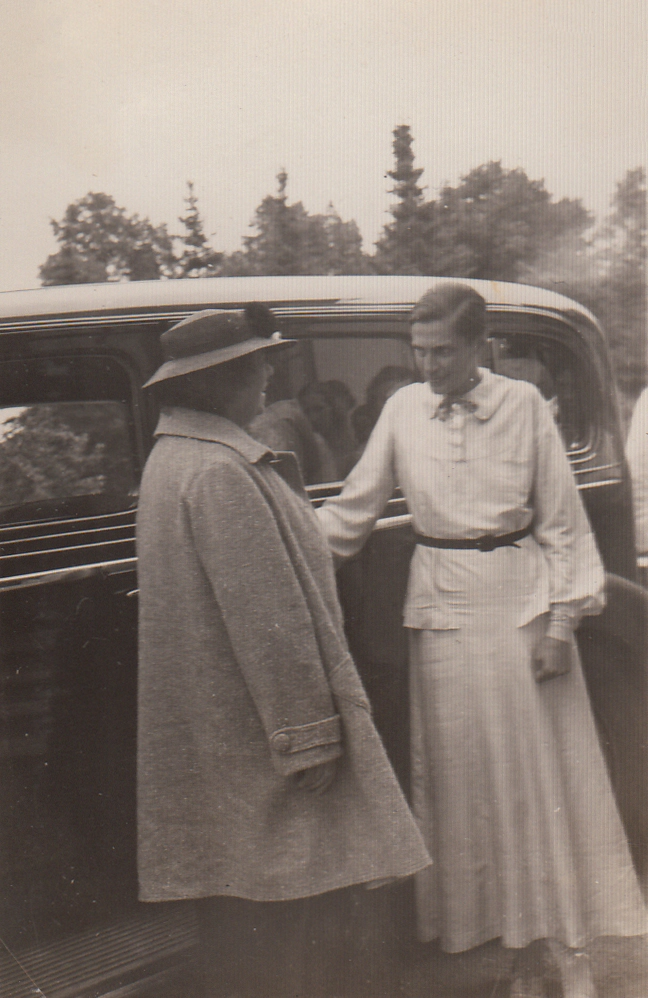 Alexandra Kollontai with Honorine Hermelin at the Fogelstad School, circa 1930s
photographer unknown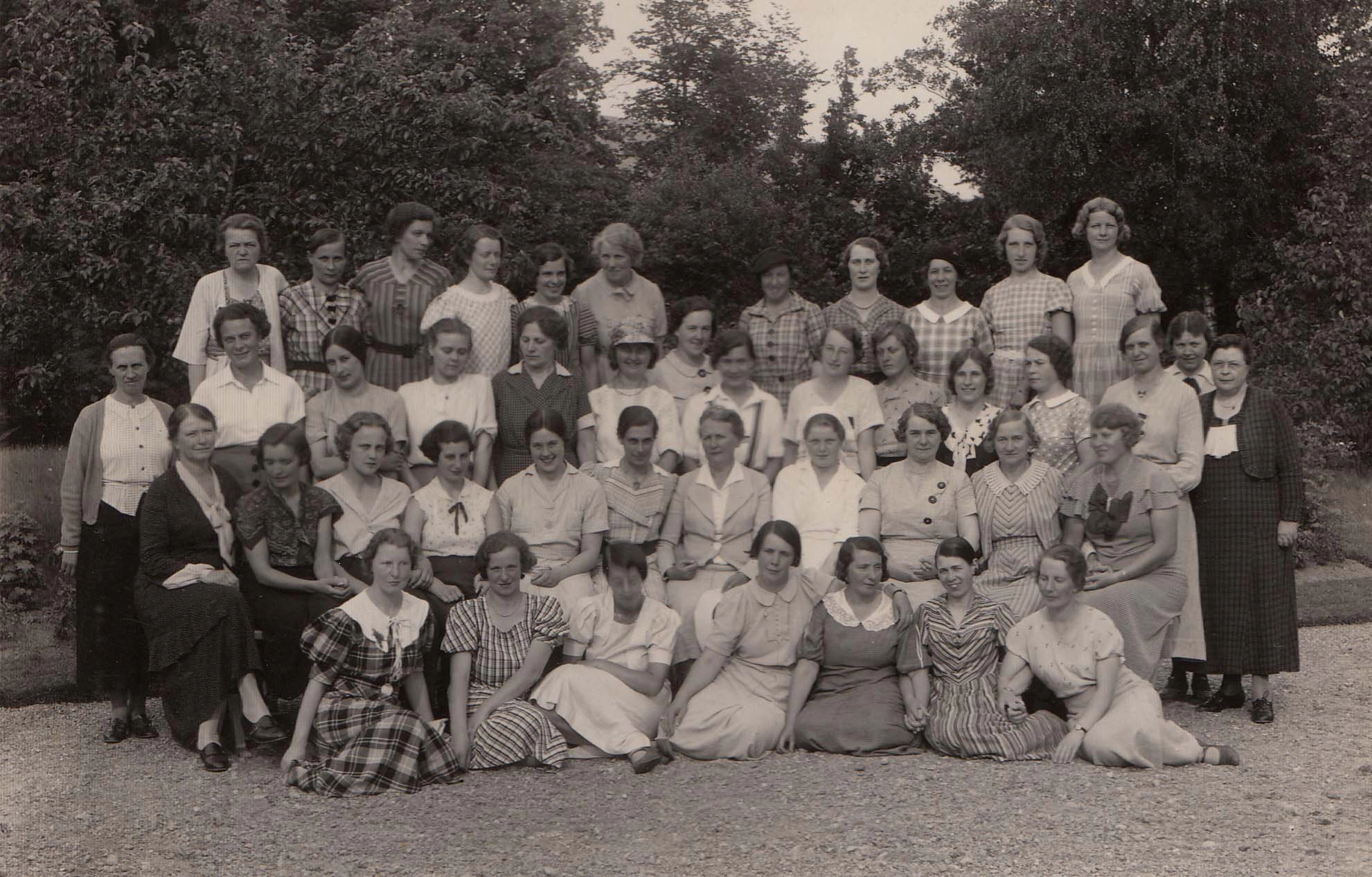 The Fogelstad School, circa 1930s
photographer unknown
Further Reading
Olivia Plender and Hannah Zafiropoulos in conversation about 'Practising Politics' at Tensta Konsthall, 2019
(download)
Suffragetto, circa 1910, a feminist board game in which players enact the Suffragette's battles with the police
(print your own)
'Practising Politics', Tensta Konsthall, Stockholm, 2019
(view here)