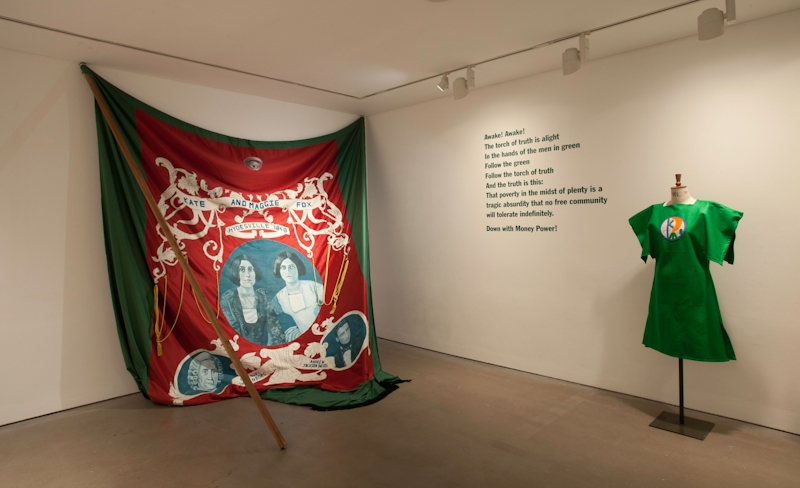 Regeneration, 2012, fabric banner, fabric costume, vinyl text, detail of installation
Regeneration, 'Rise Early, Be Industrious', Arnolfini, Bristol, 2012, and 'Dissolution to Evolution', Glastonbury Abbey and Somerset Art Works Festival, 2022
Regeneration comprises a small selection of works about two related utopian social movements that practised forms of mutual education: the Modern Spiritualist Movement and the Kindred of the Kibbo Kift. Emerging in the 1840s and the 1920s respectively, the roots of contemporary New Age ideas can be found in their combining of mysticism with the promise of liberation and colonial fantasies of the other.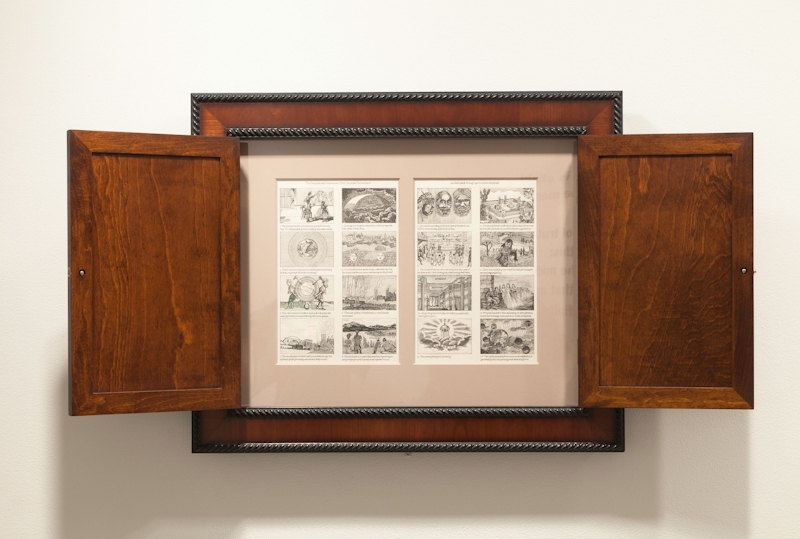 Alongside the fabric banner and costumes sat an elaborately framed drawing, from my graphic novel A Stellar Key to the Summerland. It illustrates the progression up the social ladder to be made in the afterlife – from slum dwelling to utopian socialism, as exemplified by illustrations of Charles Fourier's phalanx and Robert Owen's New Harmony.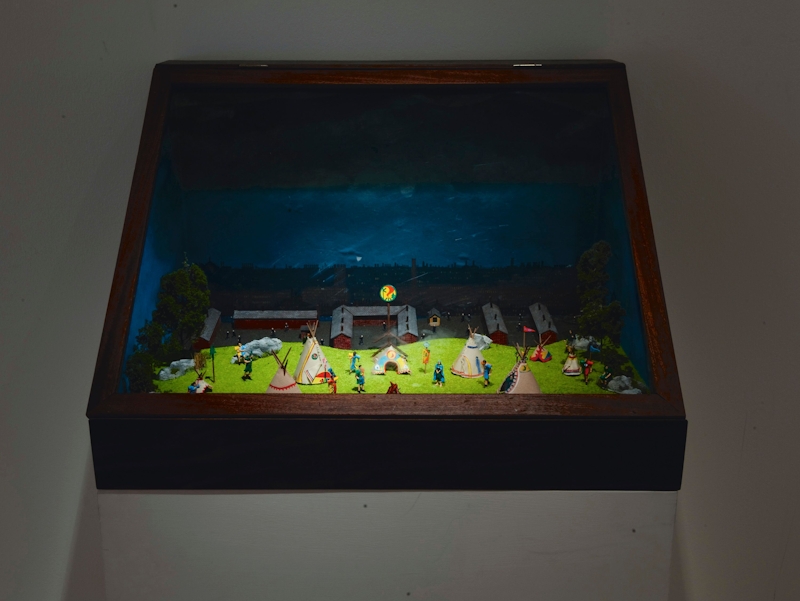 Machine Shall Be the Slave of Man, But We Will Not Slave for the Machine, 2009, diorama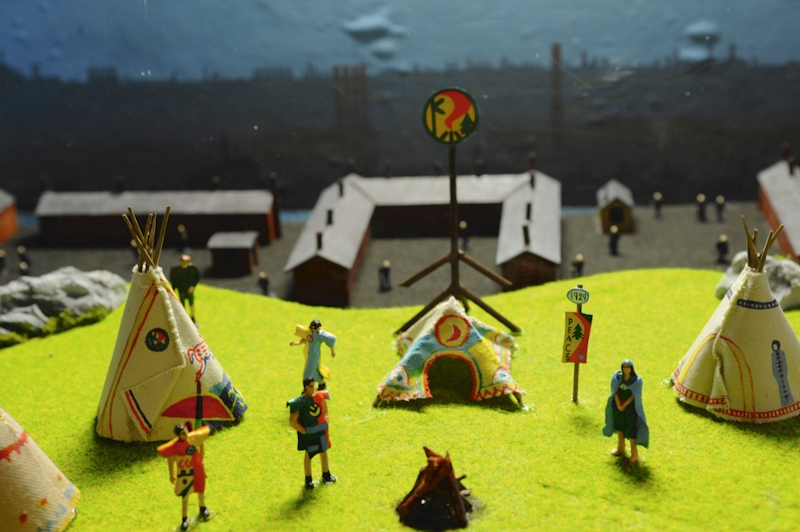 Also included in the collection of artworks was a diorama representing a Kibbo Kift camp, with an industrial city and smoke-belching factories in the background.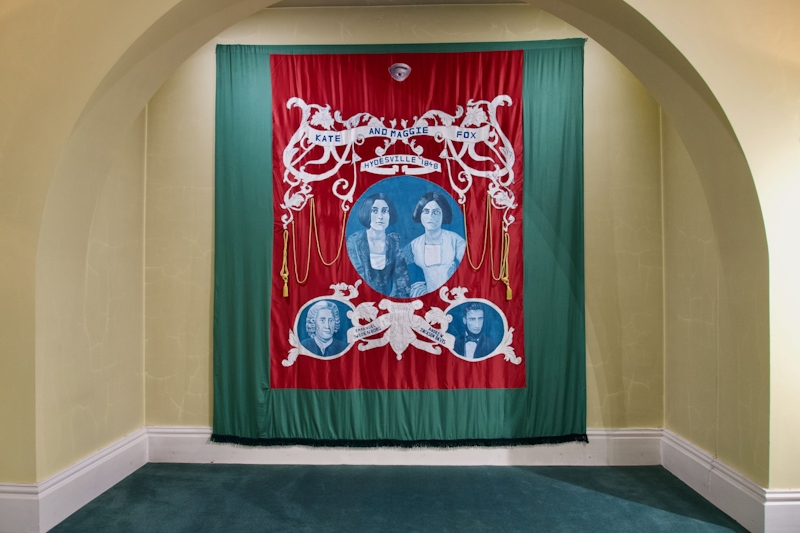 The Medium and Daybreak, 2005
fabric banner, 312 x 328 cm, installation view 'Dissolution to Evolution', Glastonbury Abbey and Somerset Art Works Festival, 2022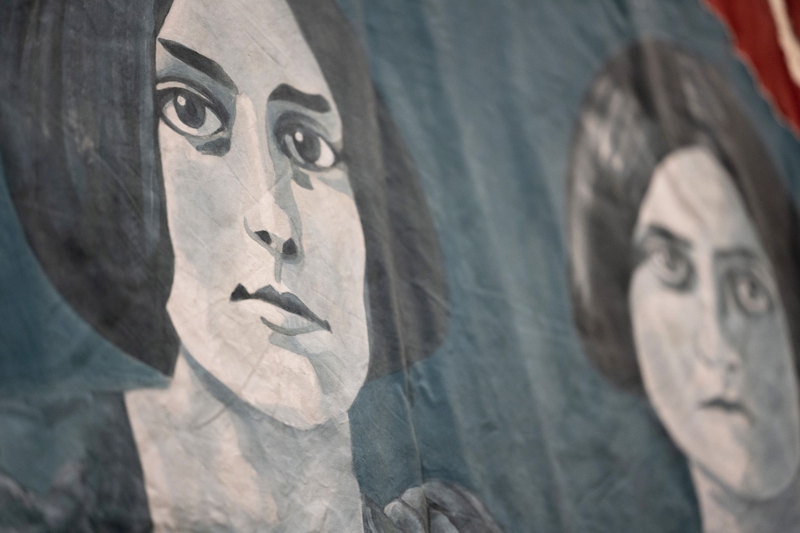 The Medium and Daybreak, 2005
fabric banner (detail)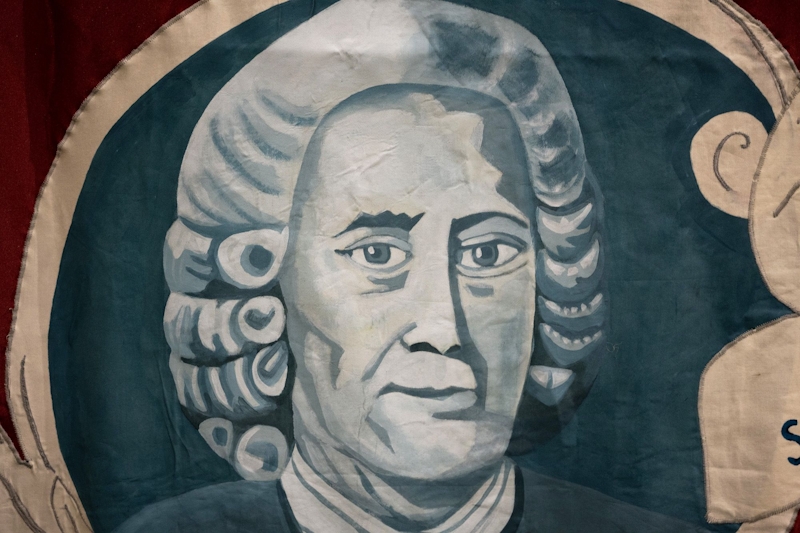 The Medium and Daybreak, 2005
fabric banner (detail)
Further Reading
'Not Without My Ghosts: The Occult in the Work of Olivia Plender', by Lars Bang Larsen, published in Rise Early, Be Industrious, Sternberg Press, 2016
(download)
Rise Early, Be Industrious, exhibition catalogue/artist's book, published by Sternberg Press, 2016
(buy the book)
'Dissolution to Evolution', Glastonbury Abbey and Somerset Art Works Festival, 2022
(read more)