'TINA', 2008–10
curatorial project and touring exhibition
Participating artists: Petra Bauer, Pablo Bronstein, Melanie Gilligan, Goldin+Senneby, Anja Kirschner & David Panos, Ciprian Muresan, Olivia Plender, Katya Sander, Michael Stevenson, Mona Vatamanu & Florin Tudor, and Unnar Örn.
In the 1980s Margaret Thatcher made the notorious statement 'There is no alternative' (TINA), which is often paired with another famous declaration by the former British Prime Minister: 'There is no such thing as society. There are individual men and women, and there are families.' Following the collapse of communism, 'TINA' has become something of a slogan, embodying the viewpoint that the only viable economic and political system is global free-market capitalism, coupled with the renewal of the creed of individualism. The aim of the project was to challenge the clearly hegemonic intent of Thatcher's statement and examine the contradictory relationship between capitalism and the idea of liberty from a historical perspective.
The expansion of the role of finance capital in the global economy in the last decades, alongside the deregulation of the financial markets, has led to a growth in the importance of the financial services industry. Working in a wide range of media, from performance and film to text and drawing, the artists in the exhibition addressed questions of how the financialisation of the global economy and the narratives produced through this process change our world; from the everyday questions of what kind of social relations we are able to imagine, to the realm of cultural production and our understanding of history.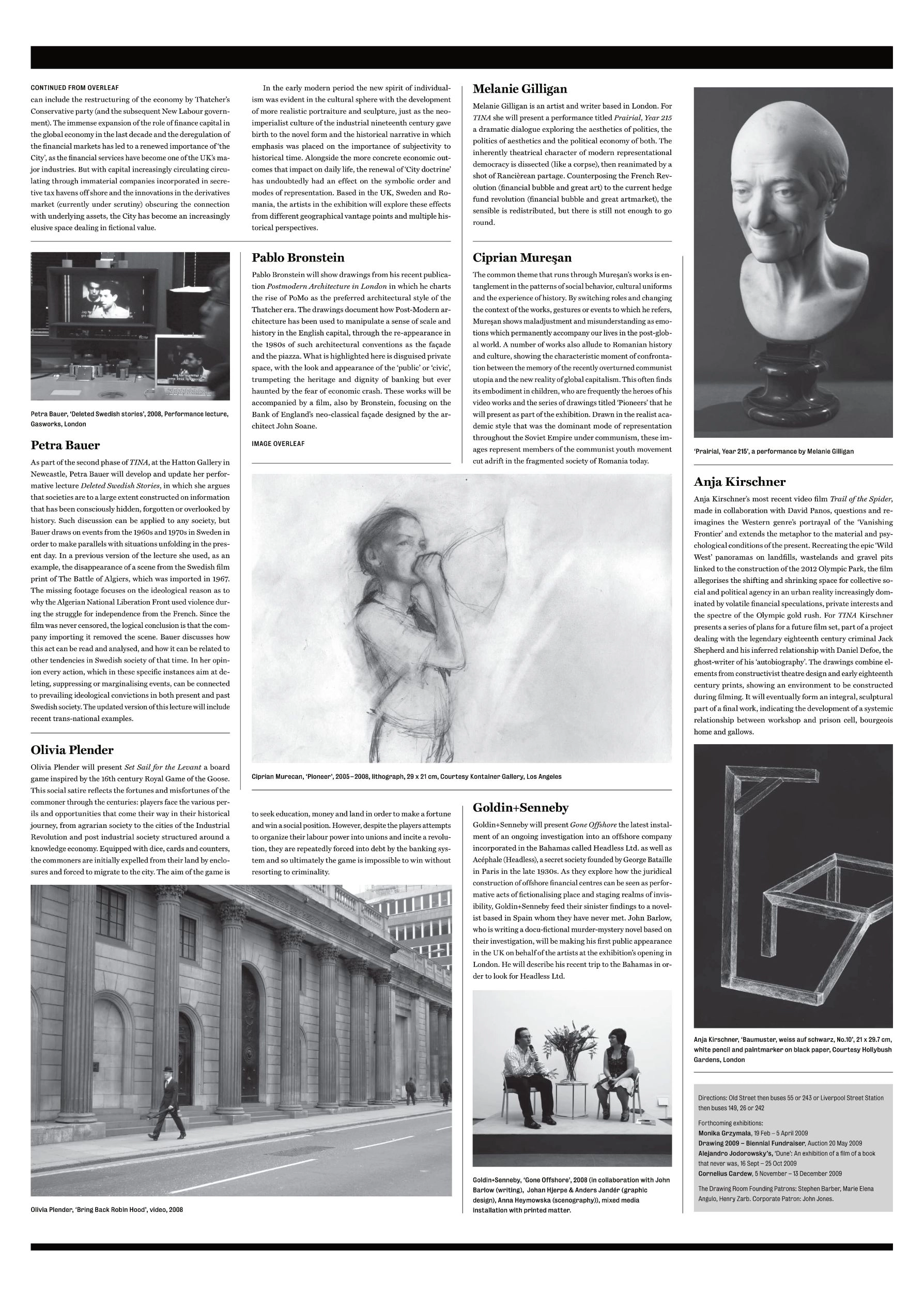 'TINA', 2008, exhibition leaflet, Drawing Room, London
This group exhibition was conceived by Olivia Plender and toured among the Drawing Room, London (2008); Hatton Gallery, University of Newcastle (2009); The Storey Gallery Lancaster (2009); Konsthall C, Stockholm (2010); and Romanian Cultural Institute of Stockholm (2010). The Stockholm leg of the tour was curated together with Kim Einarsson.
More Information
'TINA' exhibition guide for The Drawing Room
()